Consider a website or application you enjoy. What do you enjoy most? The simplicity of acquiring relevant information? How can something be purchased with a single click (and delivered tomorrow)? Or how soon it responds to your queries? Now consider the website design company that built this website. What was their objective?
They endeavored to design a website with the features you enjoy, one that is simple to use, effectively delivers the information you require, and enables you to make intelligent decisions based on your specific issues or needs.
Strong user experience is very important, for any website design company. Falling in the categories of users, you are the assets for company.

Do you know about website design?
You must be using frequent websites, ever thought of a website design?
The term "website design" describes the layout of websites that are seen online. It mainly refers to the user experience aspects of website creation rather than program development.
The primary focus of website design used to be creating websites for desktop browsers, but in a few years due to advancements, designing for mobile and tablet browsers has gained significance.

What is a Website Design Company?
A website design company is an organization that specializes in designing and managing professional websites to assist brands in connecting with their consumers and accelerating their online growth.

What exactly, they do?
Website Design company builds or designs the user-friendly interface. The interface is facing outwards and showing the consumer, what exactly he wants to see. The first thing they do is design a layout for the website, followed by its format and structuring known as wireframe.
As soon as the wireframe, colors and pictures are added, the static face of website is presented to the clients for approval and once the design gets approved, it moves towards website development process.

Reasons, why you need a UX Design Company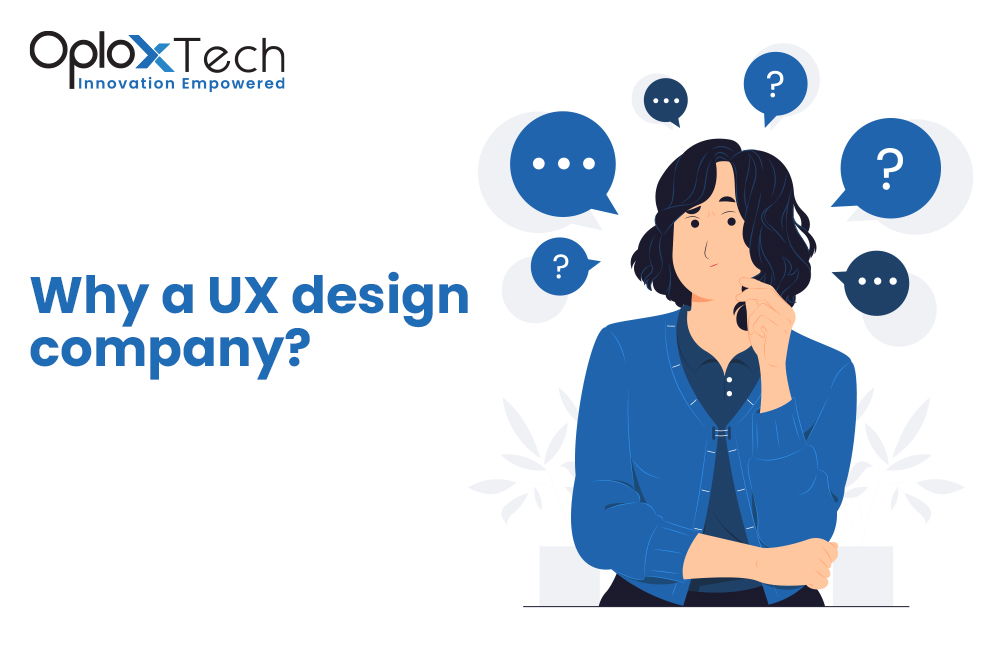 Definitely, you still want to know why exactly to hire a website design company.

An Improved First Impression

When people are looking for your goods or services online, your website will most likely be the first thing they come across.
They won't bother reading your material or giving you any thought as a potential merchant if they don't like what they see when they arrive on any of your sites. Your website's frontend design functions as its shop in the modern day.
The design of your website conveys information about your company and its products. Your target audience will be impressed, engaged, and converted by a high-performance website designed by a professional web design company.

Improved Trustworthiness and Credibility

This demonstrates that users are able to form accurate opinions about a website's credibility based on its visual presentation. However, your search engine rankings and the volume of your organic traffic will benefit from a site that is both fully functional and visually appealing.
The possibility to collect these leads and turn them into customers is increased when a professional design is used to promote your business.

Recognize and anticipate future

Around twenty years ago, the internet was not well-known. A website was just something created using leftover yellow pages. We now live in a revolutionized world that is more digitalized and networked than ever before.
Your website design business should know how to create a website with the long term in mind. They are not the right fit for your company if they do not grasp the differences between off-site and on-site SEO, the differences between rankings and traffic, and the importance of link development.

Tried and tested methods
The best web design firms have established, effective procedures for exploring new opportunities. They have a strategy for success, though it may need to be tweaked here and there depending on the specifics of a certain project or situation.
This demonstrates that the website design company has the necessary expertise to boost your company's online visibility and sales.

Improved Productivity on Mobile Devices
There's been a steady rise in the number of mobile users accessing the web. To keep up with the times, it's crucial to have a mobile-friendly site.
A website that isn't optimized for mobile devices isn't very useful. Poor presentation of its layout, graphics, fonts, and other visual aspects will lead to increased bounce rates.
The websites they create are optimized for use on a wide range of devices and are built using industry best practices. Their mobile-friendly design will boost your site's conversion rate and customer satisfaction.
What does the User want from a Website Design Company?
Services for user experience design prioritize the development of appealing software and user interfaces.

How to Enhance the User Experience?
Taking a consultative approach, identifying calls to action, employing responsive web design, keeping Fitt's Law in mind, minimizing unnecessary data input, and so on are all standard strategies to enhance the user experience.
Services to provide:
Following services are to be provided to enhance the user experience
Studying and Investigating Users
Helps you may learn about your users' motivations, requirements, and mental models via research into the competition, study of web statistics, user interviews, and preliminary usability testing.
Building Identity and scenario
Scenarios, which are user-software interaction patterns, are developed from personas, which are based on data analysis and serve as fictitious profiles of your actual users.
Mapping the User Experience
A user journey map is a visual representation of the steps that a user goes through when interacting with your program.
Construction of Working Models using Wireframes and Prototypes
After the user journey map is completed, many wireframes are created. When put together, they provide a prototype of a potential web or mobile app without the need for expensive front-end code development.
Examining prototype
Before moving on to front-end development, it is important to do thorough usability testing on the prototype to confirm the quality of the UX design and rule out the possibility of severe UX problems.
5 Perks of Choosing a Website Design Company
The workflow of a website design must be such that it attracts more visitors. To ensure that your website is optimized and can earn some money, you must engage a competent website design company.
We'll go over some more benefits of working with a professional website design company below;
1. Having a responsive and dependable web design
The majority of your audience will attempt to utilize their mobile website. Therefore, your website must be responsive in order to guarantee that users have a fantastic experience across all devices. A reputable design company can guarantee that your website is trustworthy, responsible, and usable by all of your visitors on all devices.
Additionally, it is crucial that your website is flawless. Otherwise, fixing it can take some time. Before the website goes online, an experienced web design company will test all recommended procedures to make sure there are no errors. They can also provide ongoing website support and maintenance.
2. You can outperform your competitors
If you want to expand your company, you should think about strategies to make your brand more well-known. One of the best methods for clearing the clutter and having the workflow on your website well planned. Your website's functionality needs to show intellectual leadership.
A professional website design company will make sure that your website doesn't have any elements that encourage users to leave. A well-designed website may bring in more traffic from other websites, even those of your competitors.
3. You Employ a Professional Team
When you choose a professional website design company, they can easily identify the objectives of your organization and provide the necessary procedures for your website. Additionally, they may utilize their expertise to provide you with the ideal design for your company.
They will also designate a group of knowledgeable project managers that you may contact. Working with professionals will ensure that you get regular updates on the development of your website. Additionally, they will use the finest website design techniques and consult with your team before every significant milestone.
4. Enhance Your Designs
To keep the audience on your website, you need to have a website with a great design. Additionally, it will get SEO brownie points.
A professional website design firm may utilize its skills to provide you with various designs based on the efficiency of your website. The designs offered will include all the latest web design trends.
5. Enjoy the Benefit of Continuous Support
You may not be aware of it, but even after your website has been operational, it will need professional care. It may be necessary to monitor a variety of things. For all of their customers, designers maintain an ongoing support strategy. Bug fixes, specialized assistance, and continuous maintenance are all things they can assist with.
Depending on the requirements of the sector, you may get ongoing assistance and make modifications. To add whatever additional feature, you want to your website, you may also receive assistance from experts. Before hiring a web design company, it is essential to assess its support capabilities.
Why choose us?
Being a website design company, we know exactly what you actually want!
Oplox Tech is here to add comfort, and we strongly believe in a strong user experience,
So it's never too late to step up the ladder to success!!